THE MINERAL MALL

| | | |
| --- | --- | --- |
| | | |
| Bertrandite/Quartz - Russia | Wulfenite - Red Cloud Mine, AZ | Calcite - Brazil |

Updated: January 12, 2021
CELEBRATING OVER 20 YEARS !
We, at the Mineral Mall, will endeavor to offer you, the mineral collector, highly desirable mineral specimens at affordable prices. Each mineral specimen that we purchase for resale will be individually selected with you, the collector, in mind. We will strive to do our best to make your visit to the Mineral Mall an enjoyable experience.
August 11, 2014: Our hearts were deeply saddened over the weekend as we learned about the loss of a dedicated family man, mineralogist, traveling dealer, geologist and friend to all who dealt with him. Luiz Menezes made me, personally, feel very much at ease from my first experience shopping at the Rock and Gem show in Springfield Mass several years ago, and most of our brazilian pieces came from him. My father holds a very special place in his heart for this man and from our family to his, we send our deepest condolences. We will miss him very much. May you rest in peace "our friend" and may your mineral legend be carried onward. Luiz Alberto Dias Menezes: 10/05/1950 -- 07/09/2014.
WHAT'S NEW AT THE MINERAL MALL
I am happy to announce a new set of "Bargain Basement" pages.
Click on the Irai City, Brazilian calcite to get you there.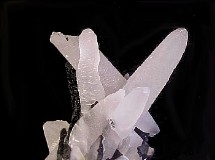 There is an easy access table towards the bottom of this page with a list of the latest updates.
Plans for the future include a section devoted to minerals from Maine. So if you are interested in acquiring minerals from this "Down East State" check out the Maine Localities. We will attempt to offer minerals from several of the most sought after localities in the Maine pegmatite belt. Most of these will be on consignment from other dealers, direct from the miners, and in some cases private collections.
***
Hi Mall shoppers, I'd like to introduce myself to you. My name is Joanne Dionne and I will be managing The Mineral Mall from our permanent home base in New Hampshire. I will be handling all of the correspondence, inquiries, orders, shipping etc. My dad will still be doing the shows, "shopping" for mineral specimens to refresh the Mall's pages. Our goal is to offer good quality mineral specimens at fair and reasonable prices, and to have fun in the process.We feel that we have been fairly successful in reaching these goals. Almost all of your comments have been favorable and we thank you for your kindness and support. We will continue to work on new projects.The Maine localities section, albeit moving along at a snails pace, is closer to becoming a reality. A few sites are up and running, (at least partially): Mt. Apatite, Auburn, Bennett Quarry, Buckfield, Tamminen Quarry, Greenwood, and several Miscellaneous Quarries including Harvard, Black Mt., Emmons, Mt. Rubellite and Hedgehog Hill. We are also hoping to share with you, information on a recent re-discovery of a "lost locality" in Maine, The Perry Petalite Prospect. We will try to give you some insight into what is needed to develope a new mining site with a tongue-in-cheek but factual account of the progress at this prospect. With any luck, we can give you a first look at any specimens that might be recovered.
November, 1999 - As the millenium draws near I would like to bring you up to date on what we have or have not accomplished at The Mall this past year. A great disappointment to us has been our inability to acquire enough specimens from Maine to get that hoped for section of The Mineral Mall up and running 100%. The production from almost all of the active mines in Maine is such that most specimens of any quality are immediately "snapped" up at the source, if in fact, they are even offered for sale. We do intend to continue in our efforts to reach that goal. Sales at The Mall have been steady and as such, our main mission will continue to be, to offer you, the collector, quality mineral specimens at fair and competitive prices. I have had some fun this past year at our on-going auctions at eBay, and that has kept me fairly busy answering mail and shipping specimens. You can find our auctions at: Current auctions by themall Click on an item number and it will take you to that items auction page.You can also check out our feedback by clicking on the number that is in parenthesis after our ID on that page, currently it's at (297)
I am pleased to report that The Mineral Mall was selected as a "Cool Site Of The Month" for the month of November by "Snappy". Snappy is the hardware that we use to capture the images used throughout our site. You can find a link to Play Inc. & Snappy on our links page.
I would like to take this opportunity to thank all of you that have visited The Mineral Mall, made purchases, offered comments and words of encouragement. Thank you all, Happy Holidays and as the Millenium approaches I wish you a healthy and prosperous journey through the next 1,000 years. Joanne Dionne
***
Feb. - Aug, 2002 - The Tucson & Springfield Shows have come and gone. Hopefully the mineral specimens we purchased at this years shows will meet with your approval, as they seem to have in the past. Fresh material will be uploaded to the Mall's pages as soon as possible, some pages have already been updated. I hope that you enjoy your tour as you click your way through the Mineral Mall's pages.
***
We are offering discounts of up to 20% on selected items. You can find these discounted items by going directly to our specials list by clicking here:
We would appreciate hearing from you. If you have any suggestions, comments, likes or dislikes, drop us a note by e-mail. Some of the comments that we have received give us a real sense of pride in what we are doing. Thanks for writing and keep 'em coming. See our Kudos Page
***
We have had several request to make it easier for regular visitors to The Mineral Mall to locate new material as it is added to our web pages. You can check for updates in the table below and click on any of the items to go directly to that page. Those of you who have requested to be notified of the updates will receive an email with a link to this table when the uploads are complete.
Recent updates to the Mall's pages include the following:
***
We accept Credit Card payments through PayPal, entirely free for the buyer, and is a 100% secure service.
***

Minerals For Sale

Order Information

Links to Other Shops

The "Out The Door" Archives

The Perry Petalite Prospect

We Love Your Kudos
e-mail - themall@theminmall.com
THE MINERAL MALL
P.O. Box 281
Errol, NH 03579
Since 1/1/98 you are visitor number

Free counters provided by Andale.



All photos copyright © Dick Dionne & Joanne Dionne 1997- 2013